This I Believe Essays Jackie Robinson
This I Believe, Inc., was founded in 2004 as an independent, not-for-profit organization that engages youth and adults from all walks of life in writing, sharing, and discussing brief essays about the core values that guide their daily lives.
This I Believe is based on a 1950s radio program of the same name, hosted by acclaimed journalist Edward R. Murrow. Each day, Americans gathered by their radios to hear compelling essays from the likes of Eleanor Roosevelt, Jackie Robinson, Helen Keller, and Harry Truman as well as corporate leaders, cab drivers, scientists, and secretaries—anyone able to distill into a few minutes the guiding principles by which they lived. These essayists' words brought comfort and inspiration to a country worried about the Cold War, McCarthyism, and racial division.
In reviving This I Believe, executive producer Dan Gediman said, "The goal is not to persuade Americans to agree on the same beliefs. Rather, the hope is to encourage people to begin the much more difficult task of developing respect for beliefs different from their own."
Selected contemporary This I Believe essays were featured in regular broadcasts on National Public Radio (NPR) in the United States from 2005 to 2009, in a series produced and hosted by Jay Allison. Essays were then featured from 2009-2014 in weekly broadcasts on satellite and public radio shows hosted by Bob Edwards. Essays are currently heard on the weekly This I Believe Podcast. In addition, the Canadian Broadcasting Corporation (CBC) aired essays from Canadians in 2007.  In 2005 and 2006, USA Weekend invited its readers to participate in our project and published selected essays from their readers. And numerous local public radio stations, newspapers, and magazines have featured essays from citizens in their communities.
This I Believe, Inc., in partnership with Henry Holt and Company, published two books collecting essays featured in the NPR series. The first book, This I Believe, was published in 2006 and became a New York Times bestseller in paperback, while the second volume, This I Believe II, was published in 2008. In addition to collecting these essays for posterity, the books have become popular as common readers at colleges and universities and with "one book, one community" projects. In partnership with publisher John Wiley & Sons, This I Believe published another series of books, each on a particular theme: This I Believe: On Love (2010), This I Believe: On Fatherhood (2011), This I Believe: Life Lessons(2011), and This I Believe: On Motherhood (2012). In 2013, This I Believe debuted a new set of books built around essays from a particular city or state, beginning with This I Believe: Kentucky and This I Believe: Philadelphia.
Teachers around the country—and around the world—have embraced This I Believe as a powerful educational tool. They have downloaded our educational curricula, posters, and brochures for using This I Believe in middle and high school classrooms and in college courses. These curricula help teachers guide students through exploring their beliefs and then composing personal essays about them. The students learn about themselves and their peers, and experience the delight of realizing their views and voices have value.
You can support the work of This I Believe by making a tax-deductible contribution.
Learn more about the people behind This I Believe, and see a listing of our Board of Directors.
View our Privacy Policy.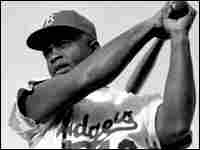 In 1947, Jackie Robinson pioneered the integration of American professional atheletics by becoming the first black player in Major League Baseball. Bob Sandberg/Library of Congress hide caption
toggle caption
Bob Sandberg/Library of Congress
This essay aired circa 1952.
At the beginning of the World Series of 1947, I experienced a completely new emotion, when the National Anthem was played. This time, I thought, it is being played for me, as much as for anyone else. This is organized major league baseball, and I am standing here with all the others; and everything that takes place includes me.
About a year later, I went to Atlanta, Georgia, to play in an exhibition game. On the field, for the first time in Atlanta, there were Negroes and whites. Other Negroes, besides me. And I thought: What I have always believed has come to be.
And what is it that I have always believed? First, that imperfections are human. But that wherever human beings were given room to breathe and time to think, those imperfections would disappear, no matter how slowly. I do not believe that we have found or even approached perfection. That is not necessarily in the scheme of human events. Handicaps, stumbling blocks, prejudices — all of these are imperfect. Yet, they have to be reckoned with because they are in the scheme of human events.
Whatever obstacles I found made me fight all the harder. But it would have been impossible for me to fight at all, except that I was sustained by the personal and deep-rooted belief that my fight had a chance. It had a chance because it took place in a free society. Not once was I forced to face and fight an immovable object. Not once was the situation so cast-iron rigid that I had no chance at all. Free minds and human hearts were at work all around me; and so there was the probability of improvement. I look at my children now, and know that I must still prepare them to meet obstacles and prejudices.
But I can tell them, too, that they will never face some of these prejudices because other people have gone before them. And to myself I can say that, because progress is unalterable, many of today's dogmas will have vanished by the time they grow into adults. I can say to my children: There is a chance for you. No guarantee, but a chance.
And this chance has come to be, because there is nothing static with free people. There is no Middle Ages logic so strong that it can stop the human tide from flowing forward. I do not believe that every person, in every walk of life, can succeed in spite of any handicap. That would be perfection. But I do believe — and with every fiber in me — that what I was able to attain came to be because we put behind us (no matter how slowly) the dogmas of the past: to discover the truth of today; and perhaps find the greatness of tomorrow.
I believe in the human race. I believe in the warm heart. I believe in man's integrity. I believe in the goodness of a free society. And I believe that the society can remain good only as long as we are willing to fight for it — and to fight against whatever imperfections may exist.
My fight was against the barriers that kept Negroes out of baseball. This was the area where I found imperfection, and where I was best able to fight. And I fought because I knew it was not doomed to be a losing fight. It couldn't be a losing fight-not when it took place in a free society.
And in the largest sense, I believe that what I did was done for me — that it was my faith in God that sustained me in my fight. And that what was done for me must and will be done for others.